If you are planning for an overnight or evening sojourn in the outdoors, you need a reliable light source for your tent or campsite. Whether you are backpacking, camping or RVing, lanterns are a preferable source of illumination. But which types of lanterns are most convenient to carry and use? The short answer is battery-based LED Lanterns. LED Lanterns are cheaper, lighter, easier to use and generally last longer than other fuel based lanterns.
In this article, we look at one such popular, efficient yet inexpensive portable LED Lantern by Etekcity. Etekcity is an established brand well-known for its electrical products, lanterns, and canister stoves. In this article we would focus on one of their best-selling products – the Etekcity portable LED camping lantern. We will share our findings on how it performed in the field test and share our recommendation for the product.
Specifications
The Etekcity LED Camping Lantern is a portable, omnidirectional-lighting lantern. The key specifications of the Lantern are listed below:
Outer Building Material: Military grade ABS plastic
No. Of LEDs: 30; 3 sets of 10 LED's arranged to cover 360-degree.
Luminosity: 60 Lumens max.
Battery: 3-AA 1.5V
Power Consumption: Varies; lasts up to 12 hours on regular setting.
Size: 3.46″ diameter; 4.9″ when collapsed; 7.3″ when fully-stretched.
Weight: 9.14 oz.(259 grams)
Warranty: 10-year manufacturer warranty
Package Includes: LED Lantern, a set of 3-AA batteries, manual.
In the field performance
We decided to put the Etekcity LED Lantern through the rigors of an outdoor trip and see how it performs in comparison to the other such LED Lanterns in the same price range. Frankly speaking, we were pleasantly surprised by how the Lantern performed.
The lantern came smartly packed in a cardboard box which included the Lantern, the batteries and a short manual and a warranty card. We got a single-lantern pack, though you can also get two, three or four lantern-combo for a better price per lantern.
The Etekcity Lantern is really well-made. It features a decent military-grade ABS plastic body with adjustable foldaway metal handles. When closed it is pretty compact and looks a tad bigger than the soda can. This means you can easily carry it around with your backpack, bug-out bag or place it in your car kit.
Each lantern weighs a little more than 9 ounces (259 grams) which are pretty decent for carrying around on outdoor trips, unless off-course, you are into ultralight backpacking.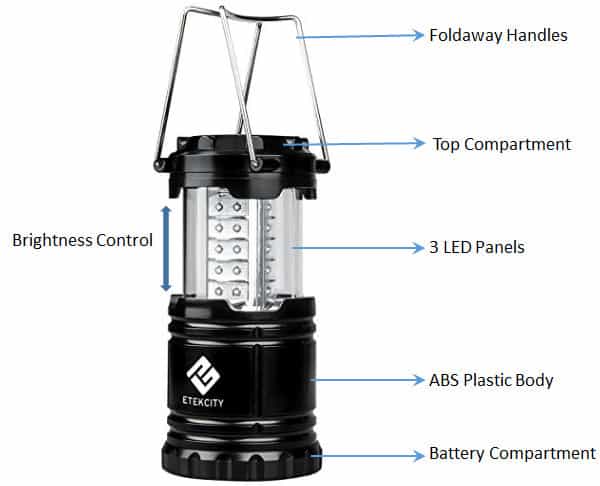 The lantern has an extra compartment on the top which you can put to smart use by storing a fire-starter and some tinder or other emergency stuff. You can, however, not use it to store a set of 3-AA spare batteries (two may probably fit).
The Lantern has a battery compartment at the bottom to fit in the three AA-batteries used to run it. The package includes a set of 3 standard AA-batteries for use with the lantern.
The lantern provides bright 360-degree lighting through three LED panels placed in a diamond-like shape. Each panel has 10 LED lights each (30 LEDs in total), and the lamp provides a maximum luminosity of 60 lumens.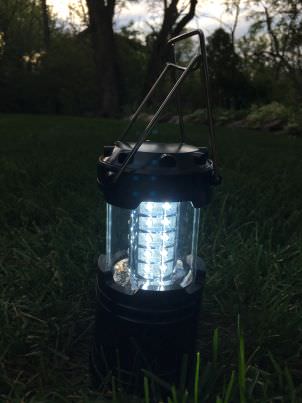 The adjustable foldaway handles are smartly fitted to the top of the lantern through hinges. These handles can be used to carry the lantern around or hang it in the tent or around the campsite. And, because of decent quality plastic, the hinges can definitely survive a few falls, so you need not worry about dropping the lantern while moving around.
The brightness of the lantern can be controlled by adjusting the level of opening. This is an excellent mechanism and a major benefit over gas-based lanterns. It is so easy to use that even your four-year-old can make it work.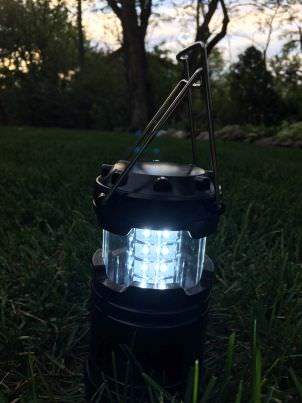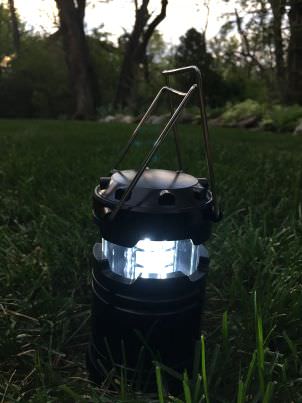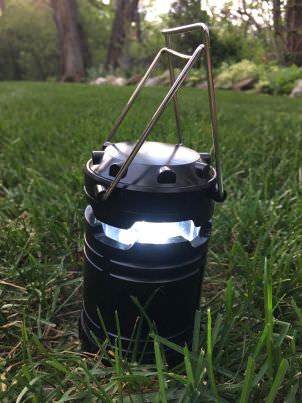 The Lantern works pretty well with the batteries that come with the package and is advertised to last up to 12 hours (8 hours on full power and 4 hours of dim light). But you can really get the best out of the lantern by replacing the factory batteries with high-quality alkaline batteries such as Duracell or Energizer. We saw a visible difference in the brightness when used in total darkness, as is evident from the image below. The lantern even lasted longer on these batteries.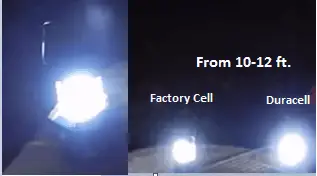 Overall, the Etekcity portable LED camping lantern looks to be an excellent budget light source to use around the house or carry on camping or backpacking trips.
To summarize, the major positives and negatives of the lantern that we observed are listed below:

Pros
High-quality military-grade ABS plastic body, with a compact design.
Extremely easy to operate with smooth brightness control.
Omnidirectional 60 lumens white- light through thirty LEDs.
Low power consumption. Lasted for over 50 hours on regular/medium setting.
Backed by a 10-year manufacturer warranty.
Competitively priced and comes with batteries included.
Cons
Can accidentally turn-on due to pressure or movement. So you may need to secure the top to avoid accidental turn-ons.
Not fully waterproof.
The verdict
We found the Etekcity LED Camping Lantern an excellent value-for-money buy for people who are looking for a LED Lantern for outdoor trips and emergency situations.
With a 10-year warranty, all-inclusive cost of less than 10 bucks per lantern and a long running life, it is a perfect choice to brighten your tent or campsite. It is also an excellent item to add to your bug-out bag or car kit.
Final thoughts
In this article, we reviewed another quality yet affordable product by Etekcity – the Etekcity portable LED camping lantern. If you are looking for an inexpensive, compact and lightweight lantern that can provide light for an extended period, you can consider getting one for your next camping or backpacking trip. You would find this lantern also suitable for your patio, backyard cookouts and for emergencies.
Etekcity lanterns are backed by a long 10-year warranty and are also available in competitively priced combos of two, three or four lanterns.
For any more questions or comments, feel free to share them through the comments section below and we would be happy to answer them.
Related posts