If you are planning for overnight camping in the outdoors, you need a reliable light source for your tent or campsite.
When it comes to convenience, battery-based LED camping lanterns are a perfect source for illumination for camping, RVing, backpacking, and even emergency preparedness. LED Lanterns are cheaper, lighter, easier to use, and generally last longer than other fuel-based propane lanterns. And they are convenient to carry and use. But picking the right portable LED camping lantern is important.
In this article, we review one of the best-selling portable LED lanterns in the market – the Vont Portable LED Camping Lanterns (formerly Divine LED Lanterns). We will share our findings on how it performed in the field test and share our recommendations for the product. Read On!
Specifications
The Vont LED Camping Lantern is a portable, omnidirectional LED lantern.
The key specifications of the Lantern are listed below:
Outer Building Material: Military-grade ABS plastic with plastic-coated steel handle.
Arrangement Of LED's: 30; 3 sets of 10 LED's arranged symmetrically to cover 360-degree.
Luminosity: 140 Lumens max. Cold White light.
Water protection: IP-44 rated. Water-resistant.
Battery: 3-AA 1.5V.
Power Consumption: Varies; lasts up to 30 hours on the brightest setting.
Size: 4″ diameter; 4.8″ when collapsed; 7.2/9.8″ when fully-stretched.
Weight:2 oz.(290 grams).
Warranty: Lifetime warranty against manufacturing defects.
Certifications: CE, RoHS, EMC certified.
Package Includes: Set of two or four LED Lanterns, 3-AA batteries per lantern, manual.
Country of origin: Designed in the US and made in China.
Vont LED Lantern review
Vont LED Lanterns by Vont Innovations (formerly Divine LEDs) are the original collapsible LED lanterns – a design that was subsequently copied by other manufacturers.
We decided to put the Vont LED Lantern through the rigors of an outdoor trip and see how it performs in comparison to the other such LED Lanterns in the same price range.
Build and design
The lantern came smartly packed in a cardboard box which included a set of Lanterns, the batteries and a short manual and a warranty card. We got a two-lantern pack, though you can also get the four lantern-combo for a better price per lantern.
The Vont Lantern is really well-made. It features a decent military-grade ABS plastic body with adjustable foldaway powder-coated steel handles. When closed it is pretty compact and looks a tad bigger than the soda can. This means you can easily carry it around with your backpack, bug-out bag, or place it in your car kit. The Vont Lanterns are designed in the US and made in China under strict quality control measures.
Each lantern weighs a little more than 10 ounces (290 grams) with the batteries, which is pretty decent for carrying around on outdoor trips, unless off-course, you are into ultralight backpacking.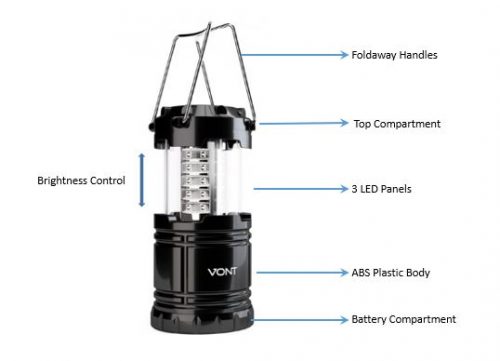 The lantern has an extra compartment on the top which you can put to smart use by storing a fire-starter and some tinder or other emergency stuff. You can, however, not use it to store a set of 3-AA spare batteries (two may probably fit).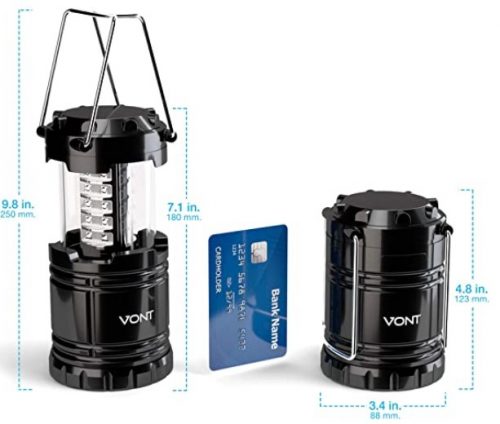 The lantern has a battery compartment at the bottom to fit in the three AA-batteries used to run it. The package includes a set of 3 standard AA-batteries for use with the lantern.
Operation and Performance
The Vont lantern provides bright 360-degree lighting through three proprietary vLED panels placed in a diamond-like shape. Each panel has 10 LED lights each (30 LEDs in total), and the lamp provides a maximum luminosity of 140 lumens.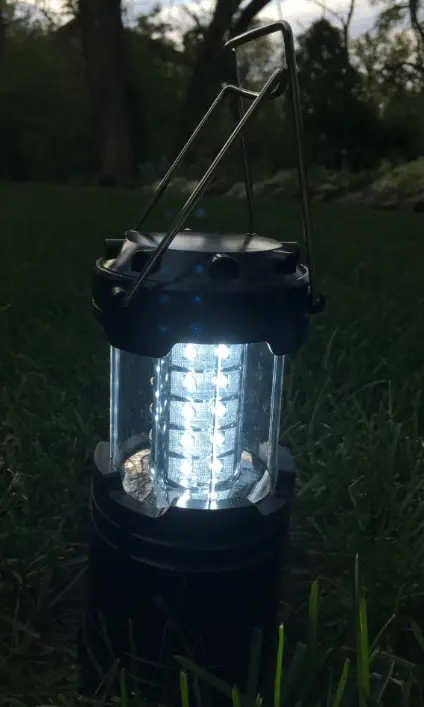 The adjustable foldaway handles are smartly fitted to the top of the lantern through ABS plastic hinges. These handles can be used to carry the lantern around or hang it in the tent or around the campsite. And, because of high-quality ABS plastic constructions, the hinges and lantern can definitely survive a few falls (up to 10 feet on a hard surface), so you need not worry about dropping the lantern while moving around.
The LED lantern has two simple modes – On and Off. The brightness of the lantern can be controlled by adjusting the level of opening. This is an excellent mechanism and a major benefit over gas-based lanterns. It is so easy to use that even your five-year-old can make it work.
The Lantern works pretty well with the batteries that come with the package and is advertised to last up to 30 hours on full settings and longer (50+ hours) on dim light settings.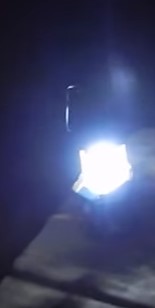 A set of batteries is included with each lantern, but you can really get the best out of the lantern by replacing the factory batteries with high-quality alkaline batteries such as Duracell or Energizer. The lantern even lasts longer a tad longer on these batteries.
Water protection
While testing the lantern for water-resistance during precipitation, we found that it worked pretty well during exposure to light to moderate rains.
However, it is not totally waterproof and hence you cannot use it in heavy rains (we observed tiny droplets in the battery compartment). Considering the price and quality of the lantern for normal operation, this should not be a deal-breaker though.
The Verdict
Overall, we found the Vont LED Camping Lantern an excellent value-for-money buy for people who are looking for a LED Lantern for outdoor trips and emergency situations such as hurricanes and earthquakes.
With a lifetime warranty, an all-inclusive cost of less than 10 bucks per lantern, and a long-running life, it is a perfect choice to brighten your tent or campsite. It is also an excellent item to add to your emergency preparedness – toss a couple in your bug-out bag or car kit.
To summarize, the major pros and cons of the Vont LED lantern that we observed are listed below:
Pros
High-quality military-grade ABS plastic body, and powder-coated steel handles.
Equipped with three panels of super-bright vLEDs that provide 360-degree, omnidirectional cold white light at up to 140 lumens.
Extremely easy to operate with smooth brightness control by adjusting the height.
Powered by 3 AA batteries and offer lower power consumption. Lasts for up to 30 hours on full brightness and longer on medium open settings.
Backed by a 100% satisfaction guaranteed commitment and lifetime manufacturer warranty.
Competitively priced, available in a set of two lanterns, and comes with batteries included.
Cons
Reasonably water-resistant but, not fully waterproof.
Can accidentally turn-on due to pressure or movement. So you may need to secure the top to avoid accidental turn-ons.
Final thoughts
An LED lantern is a compact, lightweight, and inexpensive source of illumination. But picking the right LED lantern that can last more than a single trip is important.
In this article, we reviewed another quality yet affordable product by Vont Innovations – the Vont Portable LED Camping Lantern. If you are looking for an inexpensive, compact, and lightweight lantern that can provide light for an extended period, you can consider getting one for your next camping or backpacking trip. You would also find this lantern suitable for your patio, backyard cookouts, and emergency preparedness.
Vont lanterns are backed by a lifetime warranty and are also available in a competitively priced combo of two or four lanterns.
For any more questions or comments, feel free to share them through the comments section below and we would be happy to answer them. Do not forget to check out our article on the best headlamps for another lighting gear for camping and backpacking.
Until next time, happy camping!
Image credits: Amazon.com